A Broxel account in pesos, a Broxel account in dollars. Two cards, one App
.
Broxel is pioneering a borderless financial solution for the hispanic community. An account in dollars issued in the US, an account in pesos issued in Mexico, and one cutting-edge App to manage both from your cell phone.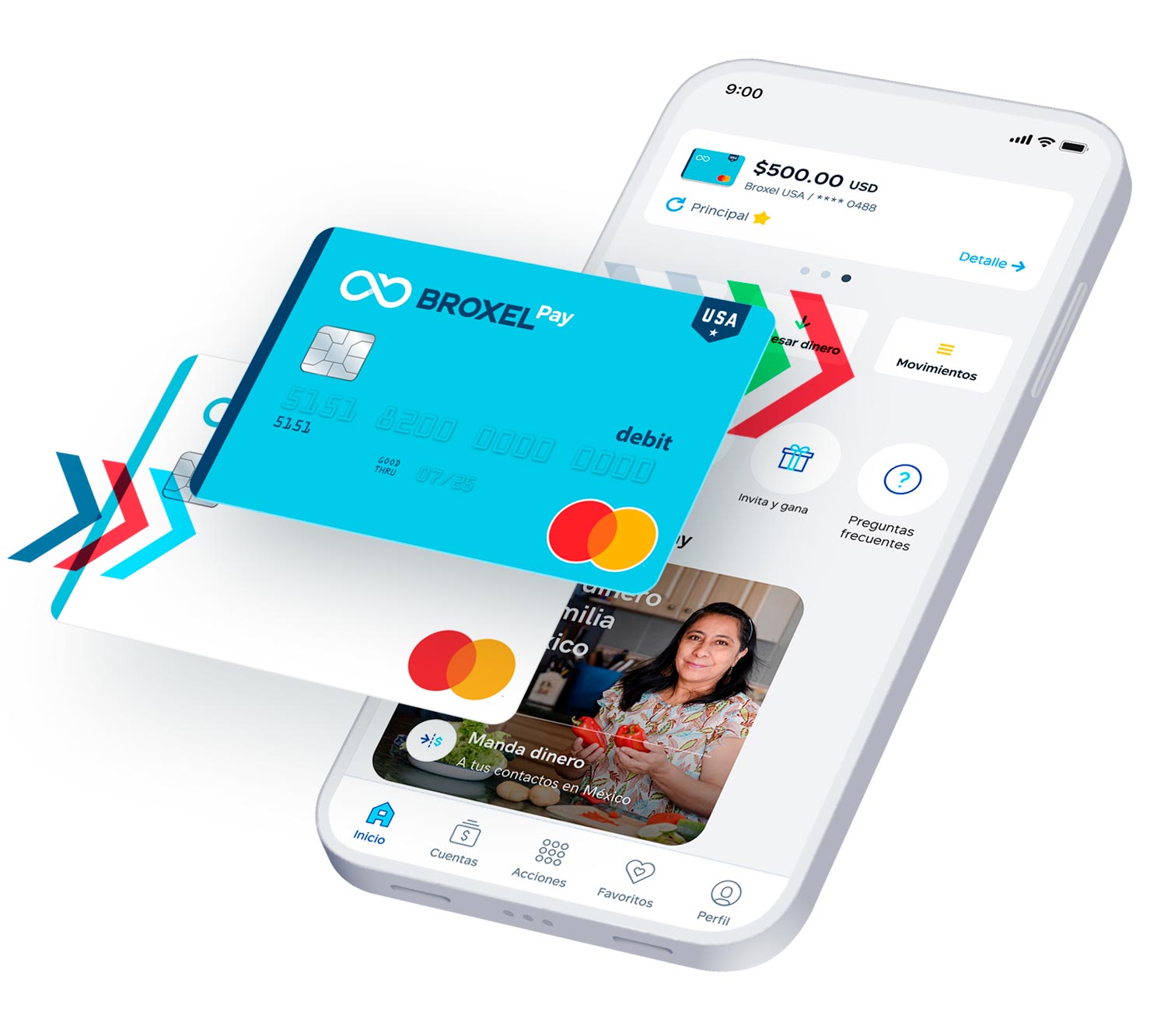 Discover all you can do in your App.
Check your balance and transactions
Anytime, anywhere.
Turn your card on and off
Only you decide when to use it.
Travel with a discount
Join Broxel Travel and discover promos.
* Broxel Travel is a service provided by an independent entity not afiliated to, nor sponsored by Metropolitan Commercial Bank.
Set your PIN
Create or change your PIN whenever you need.
Get your Broxel account and get more than you expected.
Choose your Broxel Pay card design.
Exclusive designs that suit your style.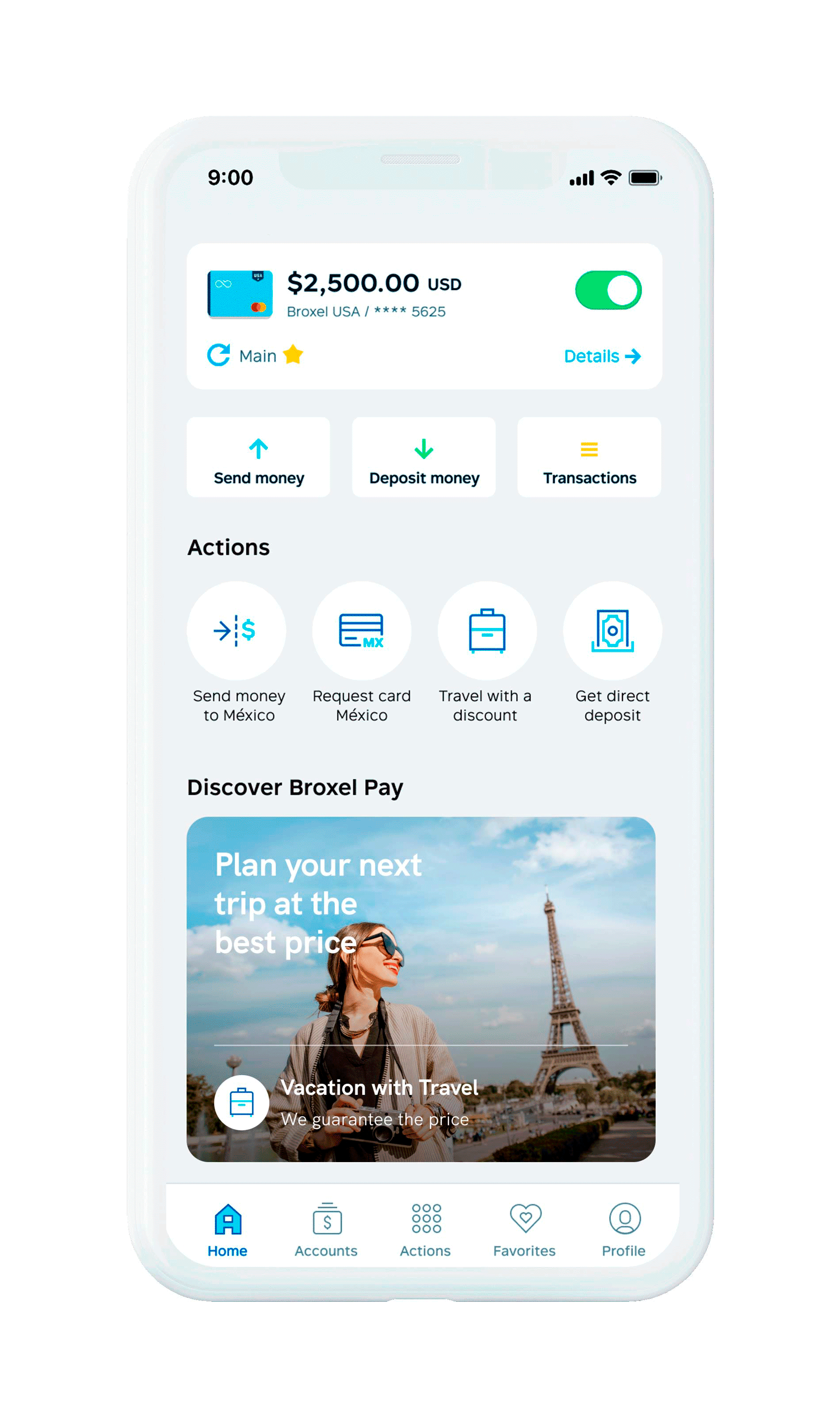 Manage your account from the Broxel Pay App.
Absolute transparency.
Check your balance and all your transactions anytime, anywhere.
Total security.
Enable or disable your card whenever you need.
Always within reach.
Send money to Mexico and US Broxel Pay accounts and other banks in the US.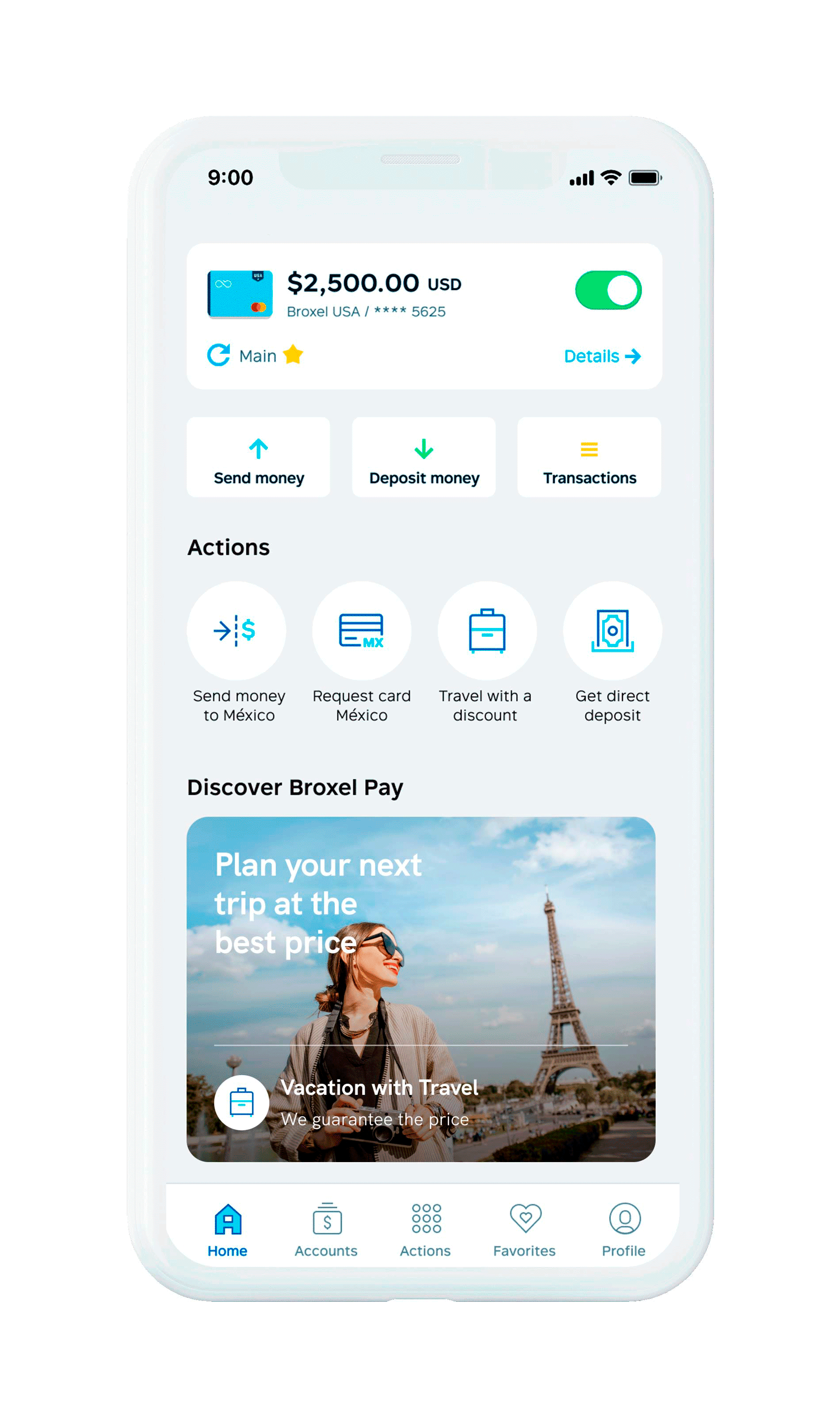 Manage your account from the Broxel Pay App.
Control your expenses.
Check your balance and how you've spent your money day-to-day.
Manage your card.
Enable or disable your card whenever you need.
Send and receive money.
To other Broxel Pay accounts from México and the US, or via ACH transfer.
By ACH transfers
In more than 100,000 locations nationwide
There will always be a store nearby where you can reload your card. Locate the nearest one.

* Some merchants may ask for a valid ID.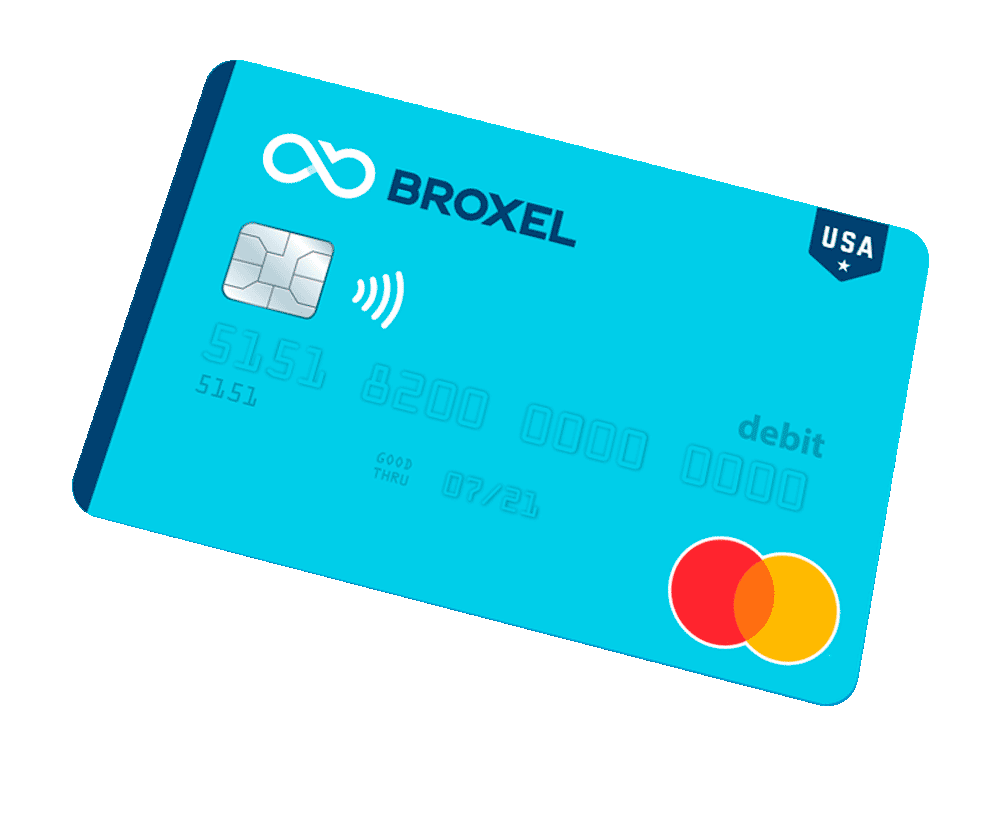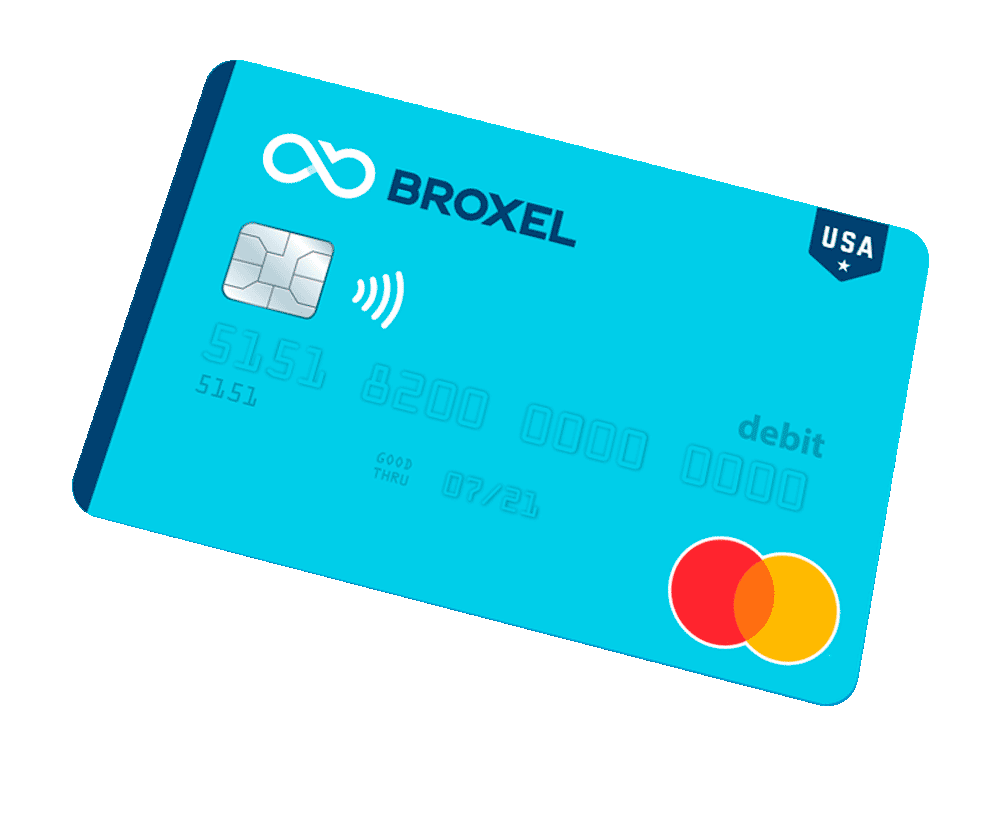 Get your account with a Mexican ID.
You only need:
• One of these IDs
Mexican documentation: IFE or INE, passport or driver's license, consular registration card.
American documentation: driver's license or passport.
• Valid address in the US.
• Mobile number.
• Email.
Your friends and family will also benefit if they open a Broxel Pay account in Mexico.
ATM network access
Withdraw money from any ATM*.
* Individual bank fees may apply.
Manage money from the Broxel Pay App
They will be able to check their balance and transactions, and to send and receive money.
Online and in-store shopping
They can pay online, in apps or purchase at any store with Mastercard acceptance.
Refer your friends and family in Mexico to Broxel Pay so they can receive your transfers.
Your safety and security are our absolute priorities.
✅
Regulated in Mexico and US
✅
Extra-secure transactions
BY USING THIS CARD YOU AGREE WITH THE TERMS AND CONDITIONS OF THE CARDHOLDER AGREEMENT AND FEE SCHEDULE, IF ANY.
The Broxel USA Prepaid Mastercard is issued by Metropolitan Commercial Bank (Member FDIC) pursuant to a license from Mastercard International. "Metropolitan Commercial Bank" and "Metropolitan" are registered trademarks of Metropolitan Commercial Bank ©2014.
FOR CUSTOMER SERVICE CALL SERVICIOS BROXEL S.A.P.I DE C.V. AT 1-855-279-2720.
Funds in your Broxel USA Prepaid Mastercard card are held at an FDIC insured institution.
Your funds will be held at or transferred to Metropolitan Commercial Bank, an FDIC-insured institution. While there, your funds are insured up to $250,000 by the FDIC in the event Metropolitan Commercial Bank fails if specific deposit insurance requirements are met and your card is registered. See fdic.gov/deposit/deposits/prepaid.html for details. FDIC insurance does not protect your funds in the event of Servicios Broxel S.A.P.I de C.V.'s failure or from the risk of theft or fraud.